Silver Sponsor: Orchestrate
Our mission is to enable best of breed operations for every company using Salesforce.com.
We provide AppExchange-published and niche applications, as well as services and support to companies on the platform. ProcessComposer® supercharges workflow automation, Mix™ enables e-signed bulk document merge and form population; our Salesforce services are branded Maestro™.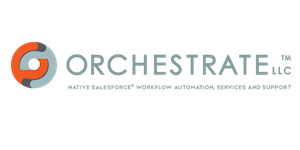 UP